Posted by Roel in : Technical , add a comment
I had an issue where the MDaemon Mailserver's Spam Filter was not learning new Spam or Ham. Currently running an evaluation version of MDaemon v16.0.1 but seen this before on v13, v14 and v15 :) (more…)
Posted by Roel in : Technical , add a comment
I repaired a broken Samsung TV (UE55ES8000) last month, however the same instructions should apply to other Samsung models.
The TV made a 'clicking sound' all the time and couldn't turn ON or OFF. The screen stayed black. My first thought was the Power board, a dried capacitor, a (physical) broken part on it or a software problem.
I took the TV from the wall, removed the back cover of it and saw 2 boards: a Power board and a System board. No damage, No dried capacitors, No black/fried parts.. I even tried to clear the EEPROM by shorting the VCC and SDA pin on the systemboard but No success..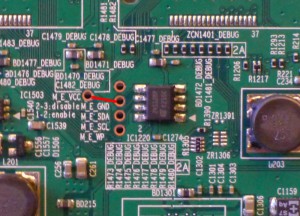 Read below how I fixed it.
(more…)
Posted by Roel in : Technical , add a comment
I needed a proper roof ventilation to cool my server room. Noice (dB) and power usage are the most important factors for me. I tested many options and finally bought a Zehnder/StorkAir MX110 Fan.
This fan is really quiet, has low power usage and you can buy these quite cheap at online auctions, marketplaces or Ebay (around €150-250).
New price is about € 1000,- or even more, depends on the exact model.

Since I want to control it using my own domotics (via KNX, Datec 0-10v Analog Actor based on a temp. sensor), I could grab any model since they all have the same hardware. Other models (MX110 ZMV, WS,..) add a pressure sensor, temperature control,..etc. which I don't need.
(more…)
Posted by Roel in : Technical , add a comment
I recently build an Out-of-Band (OOB) management network for Utrecht University with Moxa Terminal servers (CN2610-16-2AC).
The Moxa Terminal servers had all RJ45 (serial) ports. However, connecting it with a normal network cable, a cross-cable cable or a Rollover cable didn't work.
I found the pinout and made a drawing of it in case you ever need it:)
Posted by Roel in : Technical , 4comments
I've scanned all my documents (incomming invoices) in TIFF but also have a lot of documents in PDF and DOC(X) format. Now when something gets broke and I need to return it to the shop I'm often looking for that invoice, sometimes I don't even know at which shop I bought it. Imagine I could just type: "HP 8000" or "light bulb" and it shows all documents with those words on it, I find the document within a second and print it out.
I was trying to get this to work the past years but never succeeded so I gave it one last try and now it works!
(more…)
Posted by Roel in : Technical , 2comments
Here it is, a ready to rock AsteriskNow VM for XenServer, ready to download as a .xva file. It includes:
CentOS 5.9 (because only 5 is offically supported yet)
Asterisk 10 (v10.12.2)
FreePBX 2.10 (v2.10.1.9)
ARI (Call Recording)
Xe-tools (optimized for Xenserver 6.1)
Get a cheap or free SIP Trunk Provider, some Cisco IP Phones or a Siemens Gigaset IP DECT from EBay and you're done!
(more…)
Posted by Roel in : Technical , 2comments
Today I noticed that some Windows 7 clients had problems to connect using Cisco's AnyConnect VPN Client (SSL-VPN).
After a few hours troubleshooting we noticed that Windows Update KB2585542 was causing the problem.
The clients were not even able to see the website (on a Cisco Router) which hosts the Anyconnect client installer. When trying to connect using the Cisco AnyConnect client, it feeled like it timed-out.
(more…)
Posted by Roel in : Technical , 25comments
In IIS7 and IIS7.5 which runs on Windows Server 2008 or Windows Server 2008 R2, it is not possible to use the WebDav PUT command without 'authentication'.
This is a problem for your Avaya VOIP phones. Avaya uses the PUT command to backup a phone configuration and to store contacts.
Now, there are 3 possible options:
Install Apache on Windows or Linux. I know many of you guys don't like this…Especially because you need to configure and update/patch it.
Use a WebDav server like IP Tel from Avaya. However, that program looks like a Windows95 program,.. is it supported at all. ?
Install my Avaya script / workarround! I'll tell you how it works below.
My Avaya WebDav workarround:
(more…)
Posted by Roel in : Technical , 1 comment so far
I wrote some scripts to migrate from IPSwitch IMail 2006 (IMail 9) to MDaemon 11.0.3.
Because IMail and MDaemon have some differences in logic, I cut my migration into several parts.
Below you'll find a step-by-step IMail to MDaemon migration including the scripts I used/wrote! (more…)
Posted by Roel in : Technical , 2comments
Recently I was installing some additional RJ-45 wallmounts in my house.
I was really annoyed of Gira's 'solution' to mount a Panduit CAT6a (10Gbit capable!) keystone.
I needed a screwdriver to get my cable back from the Gira wallmount. Many installers face the same problem.
I found a simple solution by replacing the plastic Gira frame by a steel Jung frame!
It fits much better, no more friction and easier to install!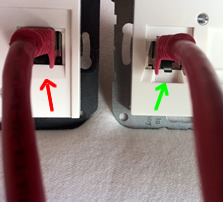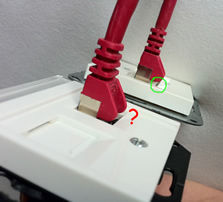 (more…)