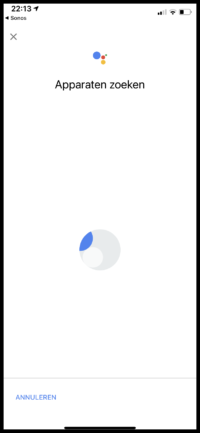 It happed to me just two hours before my birthday party, I could no add my Sonos devices to Google Assistant anymore. I tried to remove them and Add them again.. Failed.
So here is my shortlist of things you can try when you're having the same problem:
Close the Sonos and Google Assitant Apps, then reboot your iPhone/iPad
Make sure you connect to the 2.4Ghz WiFi. It can happen that your phone connects to the 5Ghz WiFi and the Sonos devices are on the 2.4Ghz WiFi (most can't even connect to the 5Ghz WiFi and even the new devices seem to prefer 2.4Ghz more). You can easily make sure you are all on 2.4Ghz by disabling 5Ghz in your WiFi router or on your access points.
Remove Google Assistant from each Sonos device (Settings -> System -> -> scroll down to Google Assistant, tap on it and then tap "Remove Google Assitant". If you've done this to all your devices, check if you had all devices under: Sonos App -> Settings -> Services and Voice -> Google Assistant
Remove the Sonos permissions and security. This will remove the security token, in most cases this solves your problem. The token got corrupt, out of sync or whatever. Go to: https://myaccount.google.com/permissions and remove the Permissions for Sonos:
Now also remove the 'Linked accounts' in Google, goto: https://myaccount.google.com/accountlinking and disconnect Sonos:
Most important: Reboot your Sonos speaker! (disconnect power, wait 10secs. and connect power again). I've seen cases that it didn't work without a reboot because the Sonos speaker still had the old Sonos/Google authentication key.
Good luck!