First i was a bit sceptic and thought it was too expensive. However, i walked into the Apple Store (in The Netherlands), payed EUR 379,- and went home.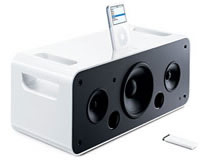 I must say i've seen a lot of real Hi-Fi installations and studios, but this thing really gives an amazing sound. Your room will be completely FULL of sound, the Low (BASS) and High tones sound great. It wouldn't be a problem to have about 20 people on a little (birthday)party and use this 'single box'. It is absolutelly not a MONO Speaker like some people say.
Just hear it and you'll buy it. I have to admit it's a bit expensive but it's different than with other things you buy.
Most things you buy; you connect it, the wires are too short, the sounds could be better and they lack some functionality or options.
Not with this one.. It's worth the full price. Really nothing found which could be better. Connecting it is so easy (like with all Apple products) and the buttons are also what-you-see-is-what-you-get. The wire is long enough (3 meters), on the bottom of the device is a flat anti-slip-rubber which makes it also a great device for sportive use (when sailing on a boat or outside in the park).
That's also the reason why i bought it; for my boat. I have a sailing boat and want some good quality music on it, i've experience with home-build-beer-boxes with car-radios and car-batteries in it, but then you have 1 or 2 speakers and it's quite ugly. When you have a nice wooden ship and everything is perfect, this thing is what the ship deserves.
The iPod Hi-Fi uses 6 D-cell batteries. When i load it with 6x GP 8000mAh NiMH (fully charged) it works for a maximum of 8 hours (90% volume, normal bass). When the batteries discharge, the volume will decrease (the last few hours). This is a bit anoying and it was would be better for me when they made it sound perfect till the last mAh and then let the device shut-down.
For more photos and comments see this article at Engadget.