For quite some time i've been looking for a case or wallet for my HP Ipaq 6915 phone/pda.

I was looking for a case which is (a little) shock proof, which i could put in my Cradle without removing the case and also has stylish look. Water resistant was no issue for me.
I searched my head off, including the following cases/wallets: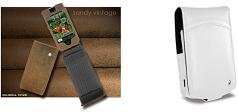 Noreve (beatifull, quite expensive but not cradle compatible)
User reviews say it is not easy to remove the phone from this case because of the joystick on the phone needs to slide under some tight leather/plastics. The included belt-clip also seems to be a bit weak. Noreve cases might be hard to get in your local shop.
---
Krusell (weak plastic clips!, common to get and not cradle compatible)
User reviews say that the transparent plastic clips are broken within 1 week till 6 months, maybe they tried to put it in the cradle ;)
---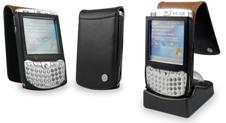 Handetta (very expensive, fine British leather & design)
They say it's cradle compatible but i don't know which cradle that is ??




---
Proporta (inexpensive but not cradle compatible!)
---
Piel Frama (best quality leather, cool designs but not very practical and not cradle compatible)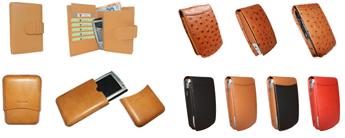 overview of 69xx cases
---
Covertec (not cradle compatible)



overview of 69xx cases
---

K4Mobile (inexpensive but not cradle compatible)
I couldn't find the website, only the shops
Maybe you can get this one cradle compatible using your scissors ;)


---
Capdase LC-HP-6500-1000 (very cheap, chinese, cradle compatible!)
I ordered this one and got it within 8 days, shipped from Hong Kong to The Netherlands ! Price was (shipping included) lower than the cheapest european case. Quality looks quite good and it really fits my original HP Cradle. It doesn't fit my Brodit Car Cradle (but in my car it is connected with bluetooth anyway). I need to get used to the fact that the pda is on the right side of the case and the actual front-/backside of the case (see the photos to know what i mean). Let's see how long this case will survive! I keep you updated…