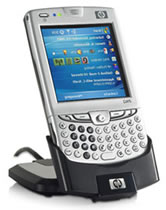 Last year i bought my new HP Ipaq 6915. Last month the touchscreen broke (couldn't touch it anymore), first i thought it was a software problem so i did a hard-reset on the device. Too bad, after a hard-reset you must tab-the-screen which i couldn't.. I called HP which came to pickup the device and withing one week UPS came to bring a new one (thanks to the CarePaq). A new year, a new device, a new clean start. Below i give you my best-software / tweaks for this device;
CoolCam (instead of using the slow camera)
Use SmartTweaker 1.08 (for the real-time memory defrag, blinking sms led, menu and IE speedup, flexible handling of EXE and CAB files, set call history to 1000).
PHM Registry Editor (0.70) for Pocket PC (to make the TomTom6 internal GPS fix and more)
Eye on Privacy (0.40) (to lock my sms/mail or even call-log/phone/calendar with a pin code. Note that the user-interface is a bit ugly. It's also capable of safe-list sms, inserting a fake sms or sending a urgent/alert sms with a hotkey)
TomTom6 (TomTom5 was built-in)
What software would be even better;
A ROM update !
Different phone software (integrated VOIP would be nice!)
A better lock (pin-code) + keyguard (easy lock during phone + in pocket) tool
And here is a list of Softphones (VOIP software to run on your PDA);
Problems with Parrot LS 3200 Color carkit
I still encounter problems with my Parrot 3200 LS Color (bluetooth) carkit. After every call there is some synchronisation traffic between the device and the carkit which leaks 5MB memory in the device's RAM ! So it's normal to hang after 5 calls unless you turn-on/off bluetooth after every call. I also see 1-number-per-name instead of 1 name with several numbers (home/mobile/work) under it.
According to Parrot these things are due to the Windows way of managing contacts and could be bypassed by selecting the K600/K750 phone in the carkit which does no contact synchronisation and then copy/push every contact to the carkit. I have more than 500 contacts in my phone so this would be a lot of work for me :( Including changing every number in my phone and in the carkit in future.
Update (14-05-2007): Using firmware version 2.03e for the Parrot 3200 LS Color gives you a "DISABLE SYNCHRO" device to pair with. The Ipaq won't synchronize with the carkit anymore and won't leak 5MB of memory every time.
Problems with Nokia CK-7W carkit
I also have a solution to pair the Ipaq with my Nokia CK-7W carkit which is in my other car. Key is to check the "Other devices can discover me" option in the Bluetooth Settings. However, sound quality is worse when the other person is also using a carkit.