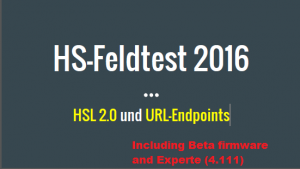 Back as never before with this new blog. Upcomming weeks a lot of news, cool stuff and hacks will be posted here! I'm full with ideas and supported by many of you who e-mail me with secrets and hacks.
Last christmas 'Cuteboy E***' sent me links to:
Gira Beta presentation, framework, documentation and examples of the upcomming homeserver software (FeldTest2016) which has two great features: "URL Endpoints" and "HSL 2.0" (HomeServer Logikbaustein 2.0).
Gira Experte 4.111 Beta (including firmware 4.111)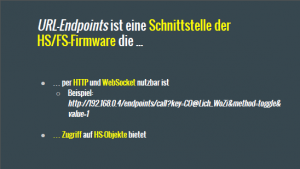 URL endpoints allow you to direcly toggle HS-objects by HTTP or websocket, example:
http://192.168.0.4/endpoints/[email protected]_WoZi&method=toggle&
value=1
Note that HS-objects can also be the Camera-archive, Scenes or Calender.
This has endless possibilities, like IFTTT, easy integration with Amazon Echo or Apple Homekit (and Siri), Geofence-Apps, and more.
But the question is what will Gira make of it? Are they building a new VISU (instead of the QuadClient)?